How to measure - mesh curtain - PVC Header
We will make your mesh strip curtain to the dimensions you provide.
The curtain is designed to be face fitted to the framework above your door opening or to the wall if you wish to cover a whole door recess.
WHEN ORDERING PLEASE ENSURE YOUR DIMENSIONS ARE ENTERED IN MILLIMETRES (mm)
WIDTH MEASUREMENT
Ensure your curtain overlaps the framework / wall to either side (ideally by 30mm+) but where you are fitting into a recess allow yourself a little tolerance either side - see diagram below.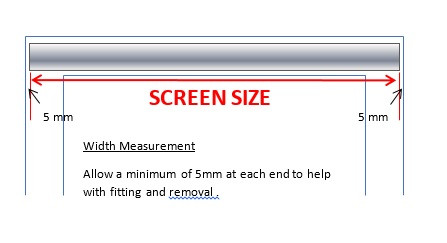 HEIGHT MEASUREMENT
The height measurement is from the top edge of the header rail to the bottom of the mesh strips. Provide a 20-25mm allowance from the floor or door threshold to enable the strips to swing freely. If possible the whole 50mm header rail should be accommodated by your framework / wall at the top. If this is not possible it can be allowed to protrude slightly into the opening.