How to measure - single hinged door screen - kit
How to measure:
For this kit please measure the height and width as per the diagram. These measurements relate to the "open space" i.e. the space created once the door is open.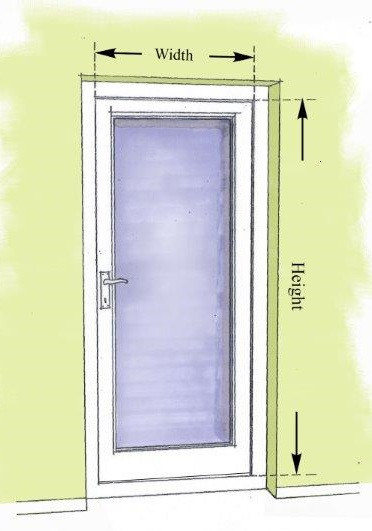 As long as the width and height of your door opening are within the measurements specified for a kit, that kit will be the correct kit for you e.g. if the width of your door opening is 860mm and the height is 1990mm then the smaller kit (900mm x 2000mm) is the kit you require.
Please note:
The screen frame is 40mm wide and is designed to be placed directly onto your door frame.The hinge and magnetic catch fixings sit to the side of the screen and will require additional space.
For example, on one side of your door frame you would require 40mm for the frame + 15mm for the hinge (a total of 55mm) and on the other 40mm for the frame + 10mm for magnetic catch (a total of 50mm). If you are limited for space, the screen size can be reduced by as much as 30mm each side.
If your door handle protrudes beyond the face of your door frame (i.e. the frame you will be fitting the screen to) when the door is closed, this may prevent you from fully closing the screen.
Solutions are:
If the screen is fitted to the inside of the property leave it partly open or lift it off the hinges (the hinges are designed so the screen can be easily removed when required)
Fit the screen to the surrounding wall i.e. beyond the reach of the handle so that it closes fully. This may not always be desireable or possible if the surrounding surfaces are not flat or far enough forward.
Fit a secondary frame (we can provide uPVC framework - see related products) that finishes beyond the door handle and fit your screen to that frame. We can explain this in more detail if you wish to discuss further.