Trouble Shooting Roller Screen Installation
The most common issues

1. Is your screen fitted square?
It's important that the side guides are fitted at right angles to the header cassette. Please check this is the case by using a level. If you have fitted the screen to your reveal, please don't assume the reveal is square as the plaster can often cause differences in size from top to bottom, and left to right.

2. Are the tabs on either side of the header cassette located in the channel on the guides.

Please see diagram below


3. Cassette compression (reveal fit only)
Did you need to force the cassette into your reveal to make it fit? If so, this may compress the ends of the cassette and the pressure may prevent the screen from pulling down freely.
4. Handle bar end cap protrudes
Please check the end cap on the handle bar, it may have dislodged in transit and be protruding from the handle bar. If so just tap it back in place. (do not remove it completely as it holds the mesh on to the handle bar) Please see image below of the end cap correctly fitted.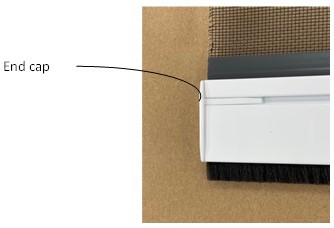 5. Screw heads causing an obstruction in the guides.
Put your finger between the pile in the guides and check that the screws have been fully screwed in place. If the screw heads protrude they can catch on the screen as it is pulled into the closed position.
6. Side Guides fitted back to front. (Applies to residential window screens closing on to sill with closing clips)
Check the guides are fitted the right way round. If you are fitting your screen internally the groove running down the side guide should be facing into the room (vice versa for external fitting). This ensures your locking clips are facing the correct way to hold your screen down. See image below. If you have established this is correct, but the problem still persists, please also check point 7 below.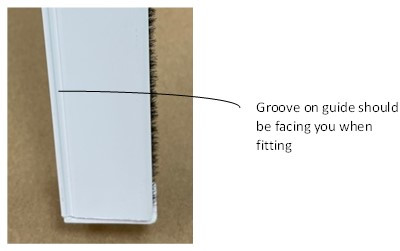 7. Locking clips not holding the screen down. (Applies to residential window screens closing on to sill with closing clips)
Please ensure you have checked point 6 above first. Put your finger between the pile at the bottom of each guide. You should be able to feel the clip at the front of the guide hooking towards the back. If it is positioned at the back of the guide please contact us. See images below.
If the above do not resolve your issue please get in touch by any method on the contact us page. If possible it's always helpful for us to see some images or a quick video clip of the problem.